My Naked Truth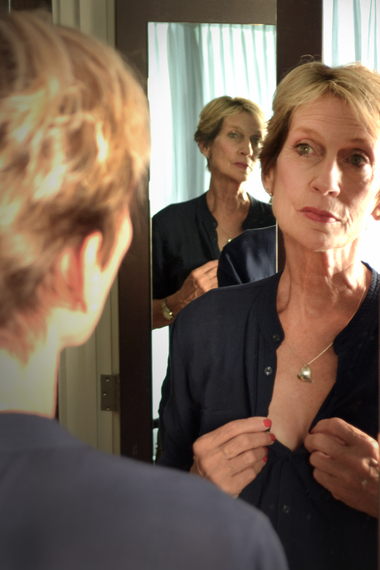 Naked, I stood at the closet doors with the lights on and made myself ready. I took a deep breath and positioned the mirrors so I could see all of me. I consciously worked to remove my self-believed inner image. I opened my eyes and looked very carefully at my body. And my heart lurched at the truth: I am not a young woman anymore. I am a woman well-lived. My body tells of all the years she has carried my spirit through life.
I am a 59-year-old woman in great health and in good physical shape. I stand five-feet, nine-inches tall and weigh 135 pounds. I wear a size six in both jeans and panties, and my breasts are nowhere near my navel. In fact, they still struggle to make it full-up in a B-cup bra. My thighs are no longer velvet and my buttocks have dimples. My upper arms wobble a bit and my skin shows the marks of the sun. There is a softness around my waist that is no longer perfectly taut, and the pout of my abdomen attests to a c-section that took its bikini flatness — but gave me a son.
Why this brutal scrutiny of myself? It was time to counter the damage of my culture, my own soft-held fear and to pour warm love on my own soul. It was time to claim every mark and not-perfect inch of my own body — a body that had been called "too wrinkled" by a man who was fetched by my energy and my mind, but did not like the bare truth of me. His name was Dave and he was 55 years old . . .
Watch Robin as she tells her story on the Today Show.